At Cambus Medical, we pride ourselves on our community engagement and charitable awareness. We recognise the importance of contributing to the community and locally based customers, educators and charitable organisations.
Each year, we partner with a different charity and focus on raising money in a variety of ways such as; Duvet Day Raffles, Pieta House Darkness into Light Walk, climbing Croagh Patrick and the Galway Hospice Memorial Walk. Over the years, we have raised over €20,000 for our charity partners. Cambus Medical also reaches out to local schools in the community through the Junior Achievement Ireland Initiative.
Since 2011, we have raised €9,966 for the Movember charity. In our company, we have the opportunity to meet people from all over the world. Movember has given us a forum to talk to people about men's health and in particular mental health. Like many families, we have been touched too by that subject and we feel that bringing the conversation into the open might help one person to seek help and for us, that is a great thing.
About Movember...
"The Movember Foundation is uniquely placed to address the crisis at a global level. We're funding ground-breaking programmes all over the world, engaging with men where they are, to understand what works best, to help make change happen sooner.
We're the only charity tackling men's health on a global scale, year round. We're addressing some of the biggest health issues faced by men: prostate cancer, testicular cancer, and mental health and suicide prevention.
We know what works for men, and how to find and fund the most innovative research to have both a global and local impact. We're independent of government funding, so we can challenge the status quo and invest quicker in what works. In 13 years we've funded more than 1,200 men's health projects around the world.
Our vision is to have an everlasting impact on the face of men's health. By 2030, we'll reduce the number of men dying prematurely by 25%. Our goals are big, but the impact of doing nothing is bigger. We need to act.
Help us stop men dying too young. Join the movement.".
One of our current Charity Partners is Pieta House Ireland. Pieta House provides invaluable free professional counselling and support services to people experiencing suicidal crisis and those bereaved by suicide. We believe the work they do to be instrumental in bringing mental health issues into the open and creating a forum of discussion and support and as such, are extremely proud to support them in our charitable initiatives.
About Pieta House...
"Pieta House was established in 2006 to provide freely accessible, professional services to people who are in suicidal crisis or who are self-harming. In 2016, we expanded our service to provide suicide bereavement counselling. Pieta House has locations across Ireland, and to date we have seen over 30,000 clients. Pieta House uses a solution-focused therapy model, and our approach is rooted in compassion and care.
The vision of Pieta House is a world where suicide, self-harm and stigma are replaced by hope, self-care and acceptance."
We have been partners of Junior Achievement Ireland for 7 years and have engaged with local schools showing them the areas of Science and Technology that are right on their doorstep and at the cutting edge of the medical device industry. We were recently recognised by Junior Achievement Ireland for our contribution and involvement with students in local schools in the community.
About Junior Achievement Ireland...
"Junior Achievement Ireland (JAI) works with industry and education partners to inspire and motivate young people to maximise their potential by valuing their education and seeing a future for themselves in the world of work. We achieve our aims by asking volunteers from the working world to visit classrooms, local to their home or workplace, to deliver a Junior Achievement programme. Through our programmes we want young people to learn key life skills and to link what they learn in school to the "real world''. JAI programmes cover four particular themes - Financial Literacy, Entrepreneurship, STEM and Employability."
Another of our current Charity Partners, is the Galway Hospice Foundation. The hospice provides vital care for patients with debilitating illnesses and also provides invaluable support for their families and loved ones.
About the Galway Hospice Foundation...
"Established in 1986, the Galway Hospice Foundation provides a wide range of specialist Palliative Care services to adults and children with cancer and other life limiting illnesses. These services include Inpatient Care (18 beds), Home Care (365 days per year), as well as Day Care (3 days per week), Bereavement Support (for as long as it is needed) and Education (for staff, carers and multidisciplinary professionals in the community). It costs over €14,000 a day to operate the services. Galway Hospice receives 65% of this cost from the HSE, with a balance of €5,000 a day having to be raised through fundraising activities. Services are provided free-of-charge, regardless of means, and are delivered across County Galway and the adjoining islands".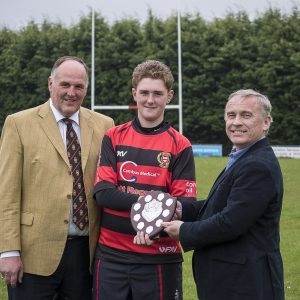 As part of our Community involvement, we are proud to sponsor the Monivea Under 14, Under 15 and Under 16 RFC teams. The dedication, team-spirit, hard work and enthusiasm of these athletes is exemplary.